evan runyon is a musician that lives in new york city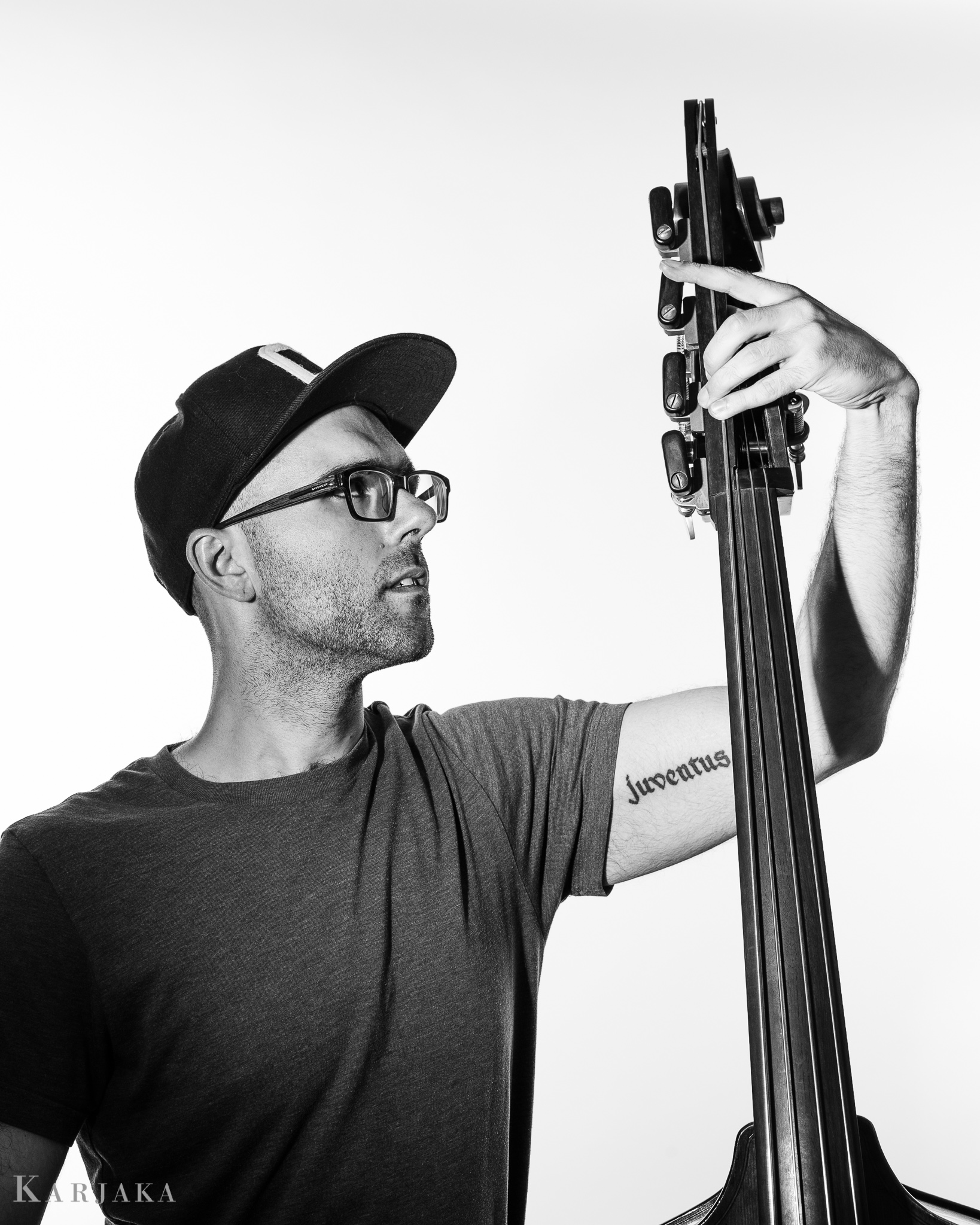 He is an acoustic and electric bassist based in Brooklyn, New York whose work has been called "quirky and interesting" (Millbrook Independent) and "very loud, at least" (New York Times) and has worked with distinguished artists as diverse as Spanish Harlem Orchestra, Chris Potter, John Clayton, Rebecca Saunders, Louis Andriessen and Stefan Prins.
Evan is artistic director of antiphonal rock band Real Loud and a member of ensemble mise-en. He has been a guest with Talea Ensemble and Contemporaneous and a featured performer at the Look & Listen (New York), Gaida (Lithuania), Arena (Latvia) and Sound of Stockholm (Sweden) festivals, the Dither Extravaganza, Bang on a Can Marathon and Music of the Americas Series.
His principal mentors have been Robert Black and Louis Levitt, additional study with Uli Fusseneggar and Shawn Conley, admist many, many others.
Evan is a native of Tucson, Arizona. He finds biographies tiresome but is fond of unusual liquors, bicycles and cats. He lives in Greenpoint.
Contact him at evan@evanrunyon.com
23 June 2017 - mise-en music festival / Scandinavia House, New York NY

01 July 2017 - Newport Contemporary Arts Orchestra / Rogers Auditorium, Newport RI

31 July 2017 - Bang on a Can World Premiere Composer Concert / Mass MoCA, North Adams MA

03 August 2017 - Bang on a Can George Lewis Concert / Mass MoCA, North Adams MA

04 August 2017 - Bang on a Can Meredith Monk Concert / Mass MoCA, North Adams MA

05 August 2017 - Bang on a Can Summer Marathon / Mass MoCA, North Adams MA

12 August 2017 - Newport Contemporary Arts Orchestra / Rogers Auditorium, Newport RI

19 September 2017 - Contemporaneous & Pig Iron Theater present Troy Herion's A Period of Animate Existence / Annenberg Center for the Performing Arts, Philadelphia PA

20 September 2017 - Contemporaneous & Pig Iron Theater present Troy Herion's A Period of Animate Existence / Annenberg Center for the Performing Arts, Philadelphia PA

21 September 2017 - Contemporaneous & Pig Iron Theater present Troy Herion's A Period of Animate Existence / Annenberg Center for the Performing Arts, Philadelphia PA

22 September 2017 - Contemporaneous & Pig Iron Theater present Troy Herion's A Period of Animate Existence / Annenberg Center for the Performing Arts, Philadelphia PA

23 September 2017 - Contemporaneous & Pig Iron Theater present Troy Herion's A Period of Animate Existence / Annenberg Center for the Performing Arts, Philadelphia PA

24 September 2017 - Contemporaneous & Pig Iron Theater present Troy Herion's A Period of Animate Existence / Annenberg Center for the Performing Arts, Philadelphia PA
© 2017 evan runyon